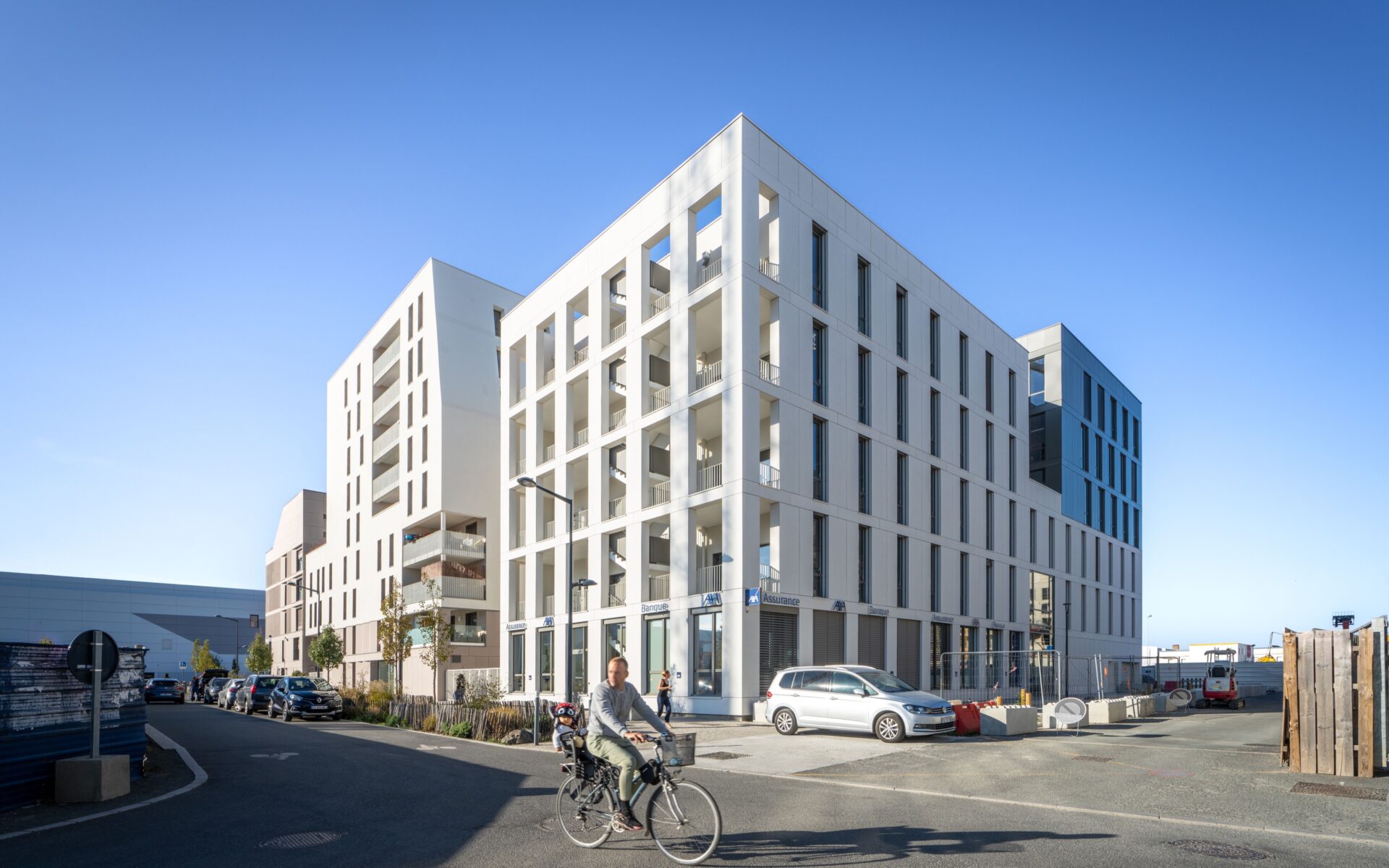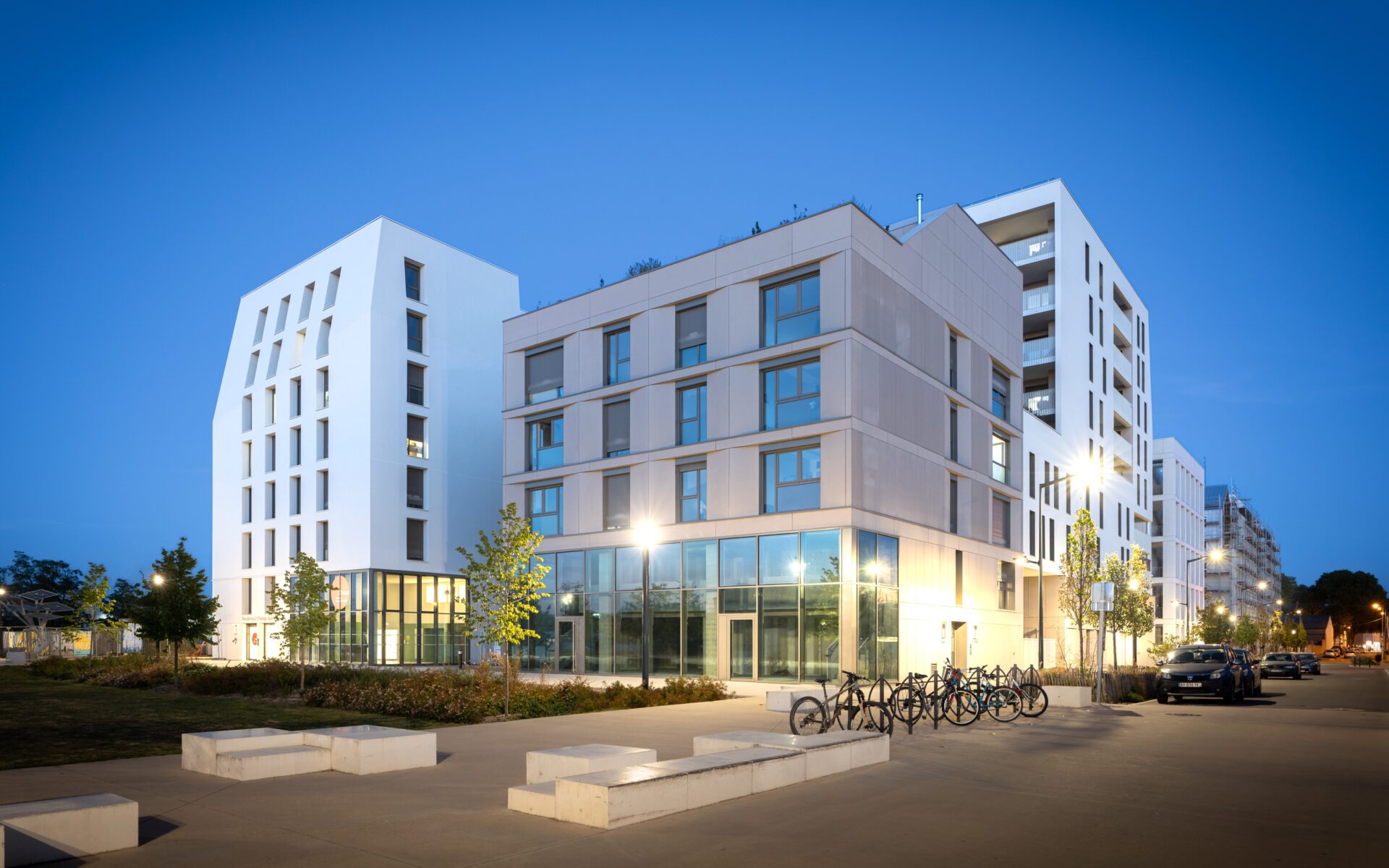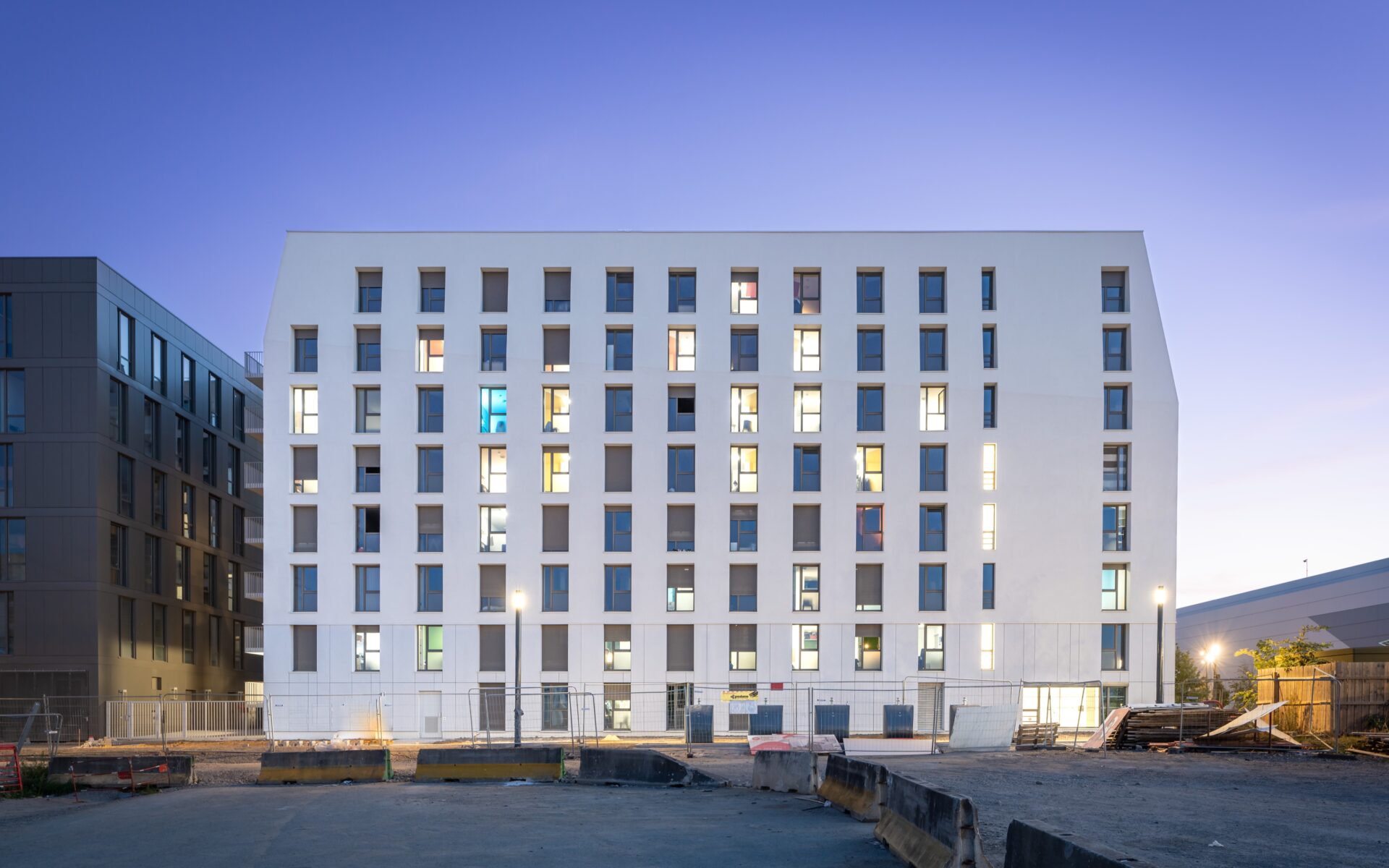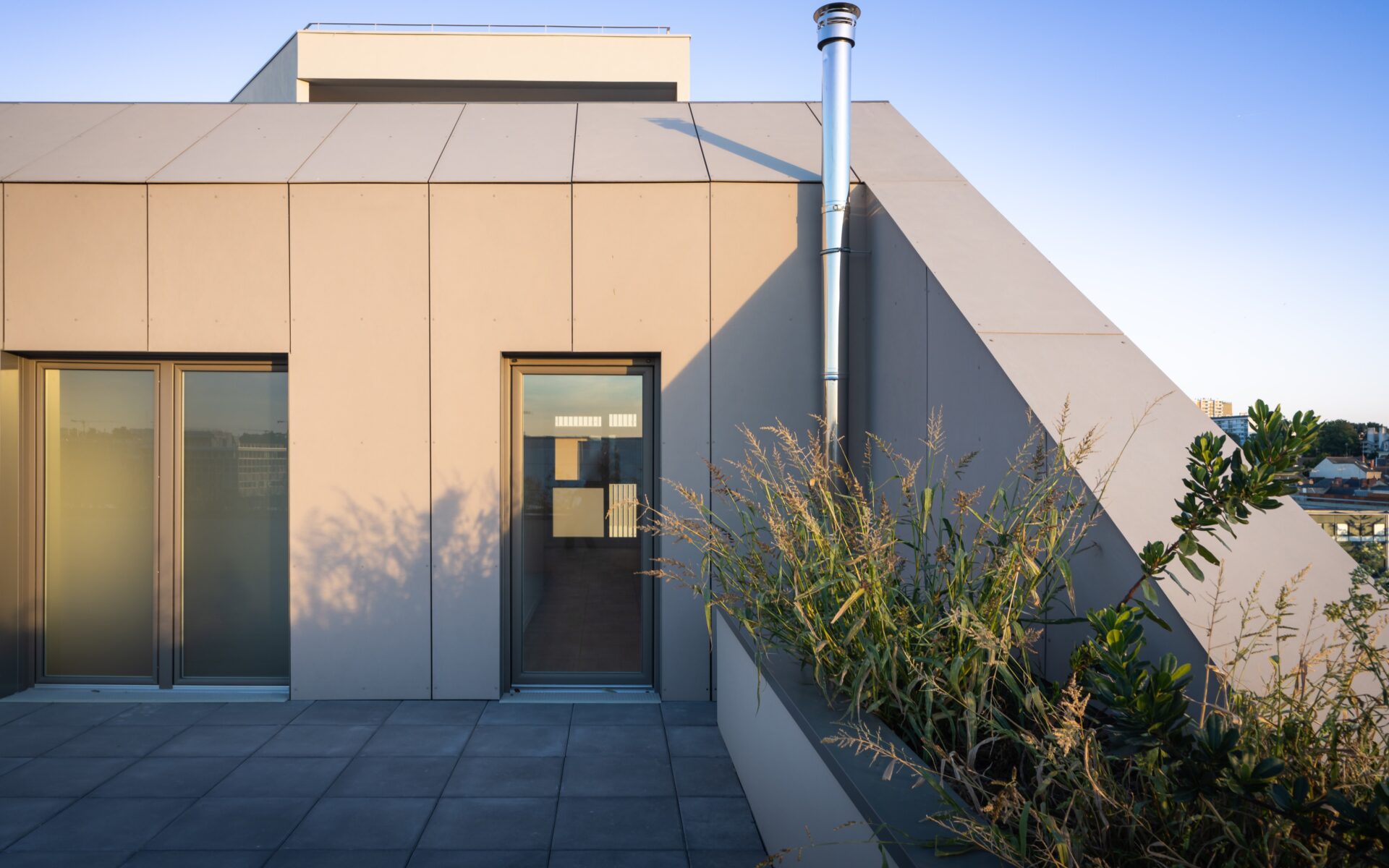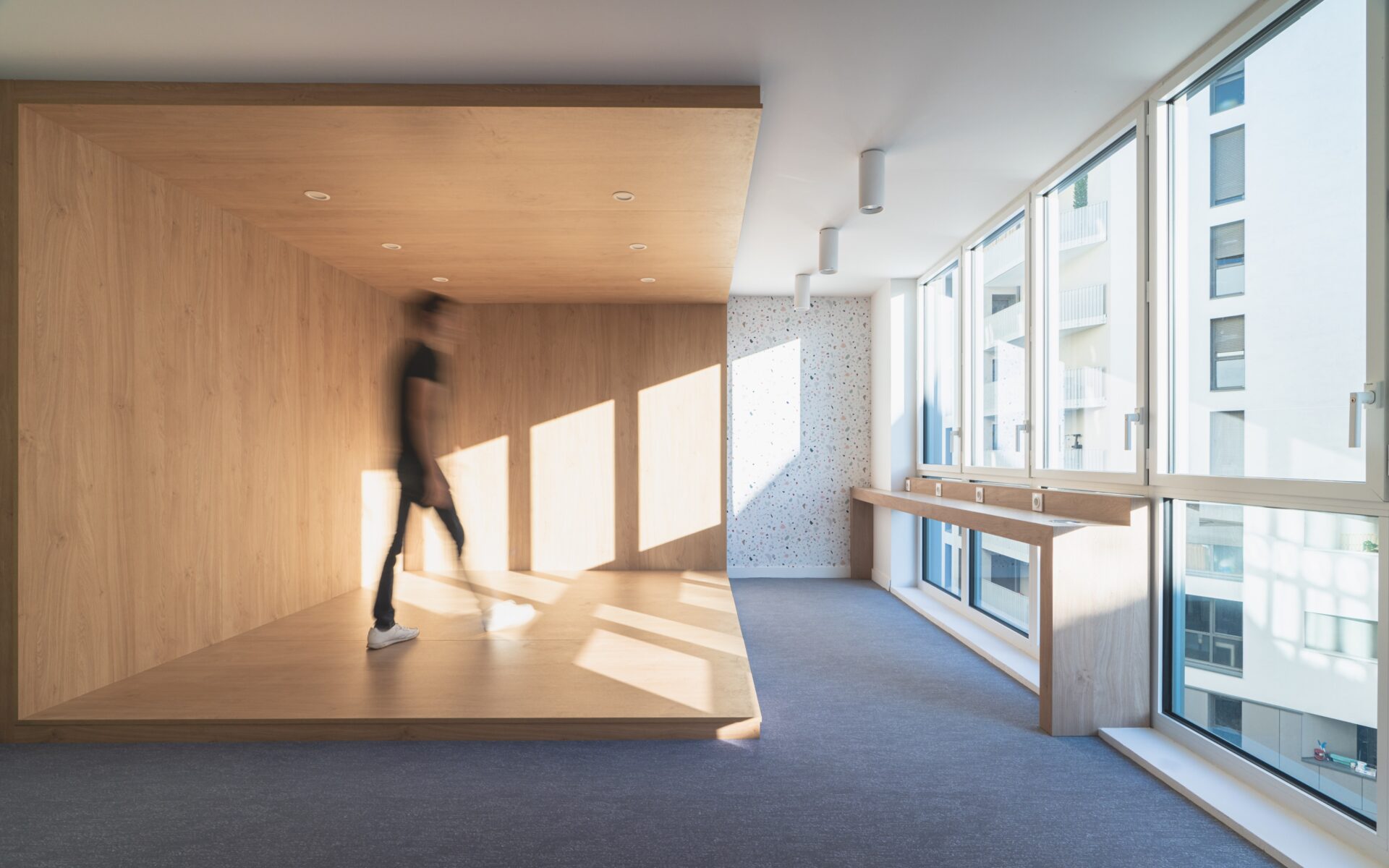 Coeur de maine
Design of a green, mixed-use development in a rapidly changing neighbourhood.
In the heart of the Quai St Serge ZAC, a mixed urban development zone that is undergoing major changes, our team is designing a mixed-use programme for Angers Loire Habitat, consisting of four buildings, one of which is nine stories high.

This building development consists of 3,500 square metres of office space, 170 student housing units for CROUS, the Centre Regional des Oeuvres Universitaires et Scolaires (a government agency that offers a range of social services to students), 30 units for social social housing in the nine-storey building, 14 housing units and more than 150 square metres of space for businesses to use.

Served by tram and linked by a network of pedestrian routes and streets, the proposed plot offers a great opportunity to develop a comprehensive and ambitious urban project in keeping with those already in place.

We have developed an urban design that facilitates encounters and social interaction. Despite the requisite high density of the project, the different buildings are articulated in response to the surrounding buildings.

We wanted to introduce landscaping into the heart of the development and to have views and openings, both visual and for pedestrians, through the plot in order to ensure the continuity of the main sight lines introduced by the urban planner. The project encourages activity at ground level on the street side.
Client :
Angers Loire Habitat / CROUS
Location :
Angers, France
Key points
Mixed use.
Wide green terraces.
Serendipitous encounters and well-being.
Landscaped urban plot.
Performance environnementale
Collective housing: 57% improvement in bioclimatic indicator (Bbio) and 24% improvement in consumption in primary energy indicator (Cep).
MASHIN housing: improvements of 58% (Bbio) and 35% (Cep).
CROUS housing: improvements of 70% (Bbio) and 60% (Cep) Design for very low heating consumption.
Offices: improvements of 49% (Bbio) and 42% (Cep) Design greatly limits the need for cooling.
Download the project sheet
Team
Patriarche group :
Patriarche (architecture, interior design, and landscaping)
Patriarche Ingénierie (general construction and cost assessment)
Patriarche DB (lead firm, general contractor, direct contractor, and project management)
Bart (property strategy for tertiary building)